Olive Oil Making - italianrecipes.ca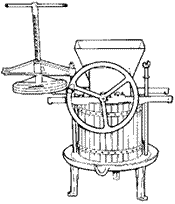 Origins of Olive Oil Making - The origin of olive oil remains a mystery, but evidence of cultivated olives dates back over 6,000 years. The ancient Greeks and Romans both told tales of olives and their creation by the gods (and subsequent cultivation by humans); Roman mythology ascribes the birth of olives to Hercules, who struck the ground and caused an olive tree to sprout.
In Greece, olives were said to have been created by the goddess Athena, and were considered so esteemed that only "virgins and chaste men" could tend the groves. Olives were a rare and precious commodity to lovers of fine foods.
Olive oil is the result of grinding and pressing the fresh flesh of the olives. Olives are generally harvested from November until March. Olives are picked just as the olive changes color. The color changing indicates that most of the oil has formed and is at peak flavor. For pure olive oil, the olives need to be pressed quickly from when they are picked since they begin to oxidize the moment they are removed from the tree.
Olive Oil Explained
Types of olive oil

There are three basic types of olive oils: extra virgin, virgin and pure olive oil. The extra virgin olive oil is the top grade of the olive oils. The oil has less than 1% acidity, the olives have been picked and pressed the same day, and the oil has a strong, green color with a perfect aroma. Essentially, extra virgin Olive oil should smell and taste just like the olive from which it came from.

Virgin olive oil is the next grade. It has less than 2% acidity with good color and aroma. This may be the result of the next day olive pressing.

The final grade is pure olive oil. This is much lighter in color with little or no aroma. Pure olive oil is the result of a blend of virgin olive oil and refined oil, which is generally extracted from olive pulp, skin and/or pits.

How to buy olive oil

When you want to buy olive oil, buy it in small quantities (or small containers) because olive oil does get old and continues to oxidize. If you do buy large containers of olive oil, separate the olive oil into smaller containers and keep them tightly sealed. Examine the bottled olive oil and determine where the olive oil was bottled. Look for the DOP or DOC label, both of which are standard organizations that define the various grades of olive oils. Also look at the color and make sure that it is green or a dark green. Look at the percentage of acidity. And always taste it if at all possible before you buy. In general, good olive oil is sweet with a peppery taste to it. It is full of body and aroma, very fruity and lively. For the most part there is no single best olive oil; it's more of a matter of personal taste. In general, buy only what you can use. Olive oil does not improve with time.

How to store olive oil

One basic thing to remember about olive oil is that it is constantly oxidizing as a result of age, heat, air and light exposure. Always store olive oil in a dark glass bottle or stainless steel container. Do not store in plastic bottles because olive oil is very reactive and if in contact with plastic will take on the properties of the plastic container. Place the container in dark places and in areas that are slightly cooler than room temperature. Tightly close the container when you are not using it. Always check the date on the bottle and don't buy oil, which has been bottled for more than 9 months. Do not refrigerate olive oil, the condensation can mix with the oil and make the final result less flavorable.

If financially permitted always cook with extra virgin Olive oil, it is the sweetest and the purest oil possible. Use Olive oil when baking, frying, on salads, pasta and rice dishes and to preserve vegetables. Recommendation on some extra virgin olive oils are Catello di Ama – it is from the Tuscany area of Italy. The olive oil is rich, smooth and not too peppery. Or you can also try Davero from California – very fruity and with a slight flavor of artichoke and fennel aroma.
Harvesting the olives
Crushing the olives
Refining the olive oil
Bottling the olive oil
Harvesting the olives

The olive harvest occurs every year when the olives achieve their maximum weight, gently ripened and plump with oil. Olives are harvested by many means, from hand-picking to automated processes; the most appropriate harvest technique is used for each individual grove. Olives are collected in nets spread beneath the olive trees, and are taken to the mill the same day they are picked.

Crushing the olives

Within 24 hours of harvest, the olives are taken to a mill for pressing. At the mill, an olive paste is created by crushing the whole fruit; the paste is then pressed again to release the oil. (This process requires no heat, and is thus called "cold-pressing.") After undergoing a natural filtration process to remove sediment and water, the oil is ready for the next step: Refining.

Refining the olive oil

Refining is the step that perfects both Olive Oil and Extra Light Olive Oil. Both oils are carefully refined, and then blended to achieve the appropriate color, taste, aroma and other characteristics associated with each variety. Olive oil obtained by refining virgin olive oils, whose free acidity, expressed as oleic acid, cannot be more than 0.5 grams per 100 grams and whose other characteristics are in accordance with those established for the category.

Bottling the olive oil

Is the final step. it is packaged in glass, tin or plastic. Light is detrimental to oil quality and accelerates oxidation. This is true of all light sources, including fluorescent lights at the store. Darker glass colors like amber, green, dark blue, or black are always preferable to clear glass from a quality point of view.